Our mission
Apply our two-pronged expertise to facilitate your process in order to realize your projects.
The engineering-construction synergy is a major asset for optimizing the costs and managing the practices and delays of construction, offering techniques adapted to the reality of each project. For each project entrusted to us, our multidisciplinary team studies the issues of the project and is committed to supporting you throughout, from the design until the keys are handed over to you. Our goal is to deliver a project that meets and exceeds your expectations.
Our ethics
Geniex values are based on integrity, the cornerstone of sound construction project management. We advocate the highest standards of ethics.
Our team is known for its honesty, fairness and impartiality.
The application of these values in all aspects of our achievements, together with our team's commitment and professional development, greatly contributes to making Geniex the ideal partner for your projects.
Our team
The strength and pride of Geniex is to have a team of experts in several fields. From design to completion, we will support you throughout all stages of your project.
Our founders
Geniex construction-engineering is the result of the association between Pierre Brassard and Francis Cobetto-Bazinet.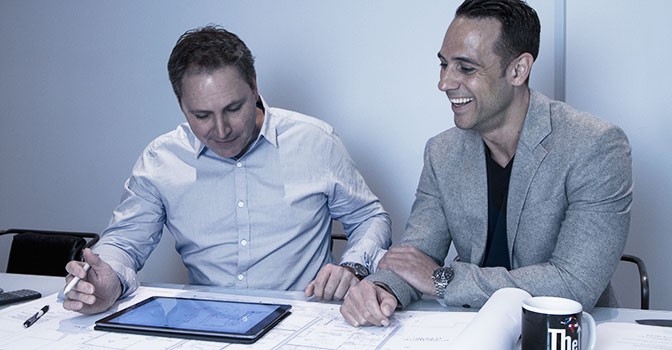 Pierre Brassard, engineer.
With a degree in construction engineering, from the École de technologie supérieure in 1994, he has worked at Hydro-Québec for almost 17 years on major projects both in Quebec and abroad. He is responsible for project management, estimates, cost control and planning.
Armed with the experience he has gained in public projects, he has subsequently worked as a principal manager on major mass excavation projects and construction of engineering works in northern Quebec and the United States. He has worked as lead director and site manager, which drives him to develop both his approach and strategic vision to fulfill his mandates.
In 2005, he founded the company Geniex ingénierie (engineering). As both President and Project Manager, he leads a team of engineers, technicians and designers. They work together on the development of studies and specifications, as well as on the preparation of various technical documents related to the repair of structure, concrete and external works. He has designed more than 1500 projects.
Francis Cobetto-Bazinet, B.A.A. Finances
With a degree in administration and finance, he founded Vizium Inc. in 2006, a real estate and construction company. He has been involved in the construction of more than 300 housing units under his financial management.
His ease in developing stable business relationships with customers, suppliers and industry players earned him a solid reputation in the field. Both his experience and credibility lead him to carry out increasingly complex projects.
In 2010, Francis Cobetto-Bazinet joined the Board of Directors of the Quebec Construction Association (ACQ), Metropolitan Region, to get involved in the industry. Since 2012, he holds the position of 1st Vice-President of the ACQ, Metropolitan Region.